SIGN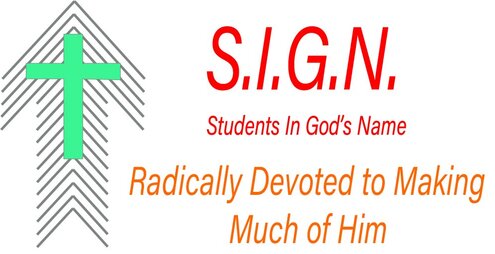 SIGN stands for "Students in God's Name". At SIGN, we want to understand this life God has granted to us. We are passionate about knowing Him, loving Him and serving Him. We want to know why God made us, how He saved us, and the plans He has for each person. We want to see students who are radically devoted to making much of Him.
This ministry is for youth in grades 7 - 12 and meets on Wednesday evenings from 5:45 - 8:15 PM. SIGN starts with a dinner (at 5:45-6:15PM) and fellowship time, followed by a game or ice breaker. Then we enjoy a time of worship, including music, a message, and small groups.
Throughout the year, there are also many different events and activities planned where students get a chance to enjoy being together, have the opportunity utilize their individual talents and make a difference in the community by being Christ's hands and feet.
Upcoming Meetings/Events
SIGN is meeting Weekly for the 2022-2023 school year starting Sept. 7th at The YAC (7390 Poplar St. E. Webster WI 54893) from 6:15 pm to 8:15 pm. (Meal served from 5:45 to 6:15 pm) Hope to see you there!
Nov. 11th and 12th- Fall Retreat
Feb. 3rd to 5th- Winter Retreat
May 26th and 27th- Spring Retreat
We will have other informal gatherings throughout the year which will be announced at SIGN, on the SIGN Facebook page (www.facebook.com/SIGNofWebster), and the church bulletin.
SIGN on a Mission
SIGN on a Mission is our seeking to follow the call of God to serve others and share the good news of Jesus Christ. We believe that this can be done in three different and specific areas. First Locally, then Nationally, and finally Internationally. We try to focus on the local mission each and every week. Some of our activities throughout the year will be specifically about outreach to our local community. Every other year we will be doing a national or international trip. For more information contact Pastor Ben.
Activity Consent Form
If your child has not filled out an activity waiver please find the form to print and fill out and return to Pastor Ben below. Thanks for your cooperation.
Memory Verses
Teens in the SIGN Youth Group have an opportunity to earn monetary credit towards Bible Camp or Youth Missions Trip each year. Below are the verses that need to be memorized and recited to a youth leader to receive a $60 credit. All the verses are to be memorized and recited together at one time, then again 2 weeks later, to hopefully establish long-term remembrance of the GOSPEL message and meaning.